Our engagement
Faithful to its convictions, I Care & Consult is committed to sustainable development every day
Invested and faithful to our convictions, we are committed to respecting the principles of sustainable development on a daily basis, both internally and within the framework of the missions we carry out with our clients. For example, each year we assess our greenhouse gas emissions and evaluate the carbon cost of our services.
Although our impact is relatively limited, we believe that we have a significant indirect positive impact thanks to our ability to mobilize many stakeholders during our missions, and through our recommendations.
Our efforts in terms of CSR have been rewarded by various organizations. For example, we are 6th out of 167 in the Zei ranking of auditing, management, recruitment and consulting companies in terms of our commitment to ecological and social transition.
Environmental commitments
Our carbon footprint in 2019 was 43.5 tons of CO2 equivalent, or 1.01 teqCO2 per full-time equivalent.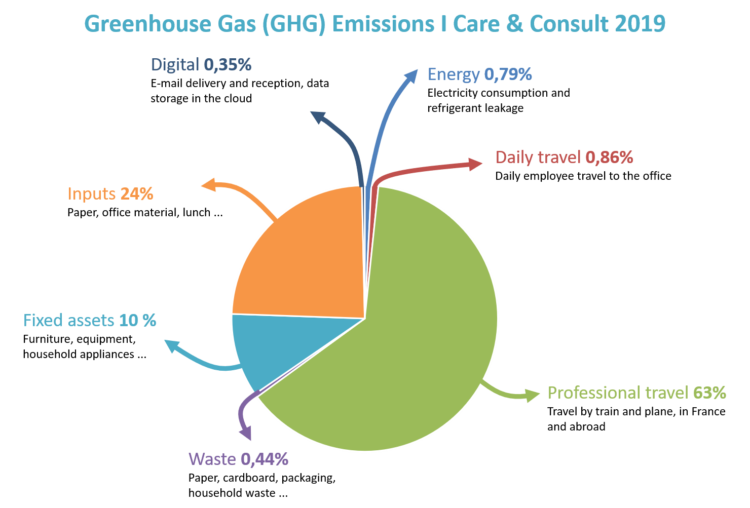 In addition, we are offsetting our carbon footprint with Reforest'action by financing a project to distribute improved cooking stoves and preserve forest resources in China. This is an ambitious project with the Gold Standard label.
We are also having a positive local impact by financing the planting of 290 trees in Saint-Trivier-sur-Moignans and Villeneuve, France.
Our traveling
In order to optimize our travels, we integrate as much as possible the tools of collective collaboration remotely (video or audio conferences, document sharing …). Moreover, in the case where physical travel of consultants is necessary, we systematically favor the least contributing modes of transport.
Our energy consumption
We don't own our premises, we can't act on the energy savings relating to the fitting materials, the thermal comfort or the energy devices of the occupied buildings. Nevertheless, in order to better control our energy consumption, we favor the purchase of equipment with controlled energy consumption; Moreover, our consultants, who are already convinced of the soundness of these principles, are regularly sensitized to eco-gestures.
Our purchases
The life cycle of our purchases is considered with particular attention. We are thus particularly vigilant to the respect of the criteria of sustainable development concerning the origin of the products, the phase of manufacture, as well as the management of the waste.
Our supplies
As a consulting firm, the management of consumables is one of our major impact posts. We are also committed to limiting our impressions and, if necessary, using European Ecolabel labels.
Our waste
Our highly committed consultants are committed to minimizing waste generation. In addition, our workplaces are equipped with devices for sorting waste.
Economic and social commitments
Society
I Care & Consult is also committed to society through research, its knowledge sharing and its work in collaboration with public actors through the following actions:
We devote 30% of our time to research on environmental, economic and financial analysis methods.
We share our experience and knowledge through :

Expert opinions on different subjects, such as tourism or green recovery
Lectures and presentations to a variety of audiences, including engineering schools.

We collaborate with public and associative actors at different scales to reduce the environmental impact of our society.
Diversity
We are committed to promoting diversity (age, gender, origins) within our teams, especially through the recruitment and promotion of our consultants.
Governance
We are committed to conducting our research and consulting activities in a transparent and fully independent manner, according to clear ethical principles shared within the team. In addition, we rely on a participative and collaborative management, involving all of our employees.